Introduction
CarWars is a 2D car game such as Death Rally, SuperCars, GTA, ...
Carwars is a futurist 2D arcade car game. Players will race the univers with their customized cars. They will be able to buy cars, improuved them with weapon and "car upgrade" (such as new engines, brakes, ...).
The game is mainly inspired by SuperCars (Atari/Amiga) but it's a mix between many games such as :
SuperCars
Lotus TurboEsprit Challange
Death Rally
GTA
Jaguar XJ-220
Jupiter MasterDrive
Tyrian (for scrooling)
It's going to be a multiplayer game (hotseat & network). A track editor is planed.
News
27/04/2009 : Project moved to SourceForge
27/12/2007 : First version (0.7 Final) which can be used for playing one race in solo mode
31/05/2007 : Developpement as restarted (once again!). CarWars v0.7 has been released supporting laps couting and a basic network server (able to synchronize players at game start only)
31/05/2006 : Developpement as restarted since one month but only a few hours has been spend to re-coding the game to java. The first CVS snapshot of the new project is available ! (see below)
11/11/2004 : The game is not over ! Developpement will restart very soon...
Project
| | |
| --- | --- |
| | This project is hosted by SourceForge . SVN is available, help is appreciated ;) |
Download
Documentation


Latest stable version (v0.07 - 27/12/2007)
Latest dev version (v0.07 - 27/12/2007)


Old versions
Screenshots
CarWars v0.07 27/12/2007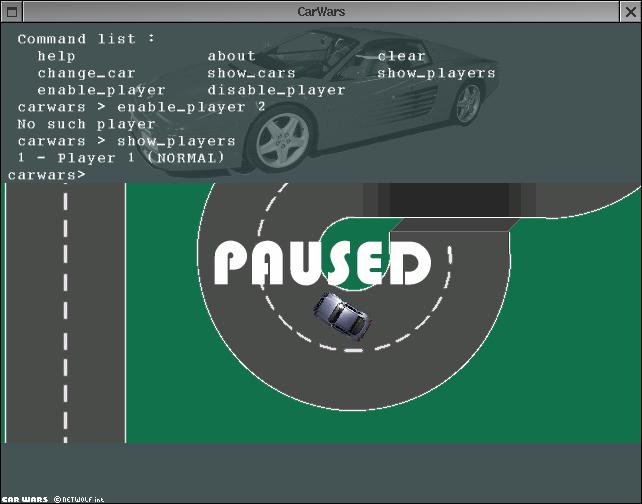 CarWars Preview (v0.05 #225 01/02/2003)
CarWars Preview (v0.04)